While almost every welding process may be used to weld aluminum and aluminum alloys, different welding procedures work well with different metals and have distinct uses. The tools and process for gas welding and electrode arc welding are both straightforward and user-friendly. Repair welding on aluminum sheets and castings that doesn't call for top-notch weld quality may be done using gas welding. Aluminum alloy castings may be welded using an electrode arc to mend cracks. Most aluminum and aluminum alloys are welded using either tungsten inert gas or metal inert gas. Thin plates of aluminum and aluminum alloys may be welded using either AC or pulsed argon tungsten arc welding. Tungsten-helium arc welding, argon-helium mixed tungsten gas shielded welding, consumable gas shielded welding, and pulse consumable gas shielded welding are all suitable for welding aluminum and aluminum alloy thick plates. The usage of MIG and pulsed MIG welding (using either argon or an argon/helium combination) is on the rise. In the article, we talk about how many welding methods are there for aluminum and how to weld.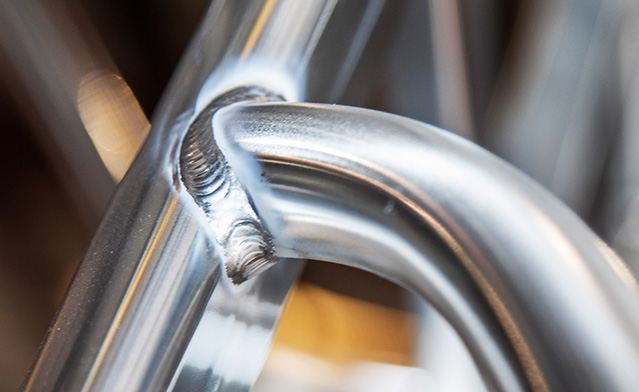 What Is welding?
Welding is a fabrication process that joins two or more pieces of metal or thermoplastics together by heating them to a melting point and allowing them to cool, thereby fusing them into one solid piece. The process involves the use of intense heat and pressure to melt the metal or plastic, and then allowing it to cool and solidify, creating a strong bond between the two materials. Welding is a common process used in the manufacturing of automobiles, ships, airplanes, and various other products made of metal. It is also used in construction, such as in the fabrication of buildings, bridges, and pipelines. There are many different welding methods available, including MIG, TIG, stick welding, flux-cored arc welding, and gas welding, among others. Each method has its own advantages and disadvantages, and the choice of method will depend on the specific requirements of the application, as well as the materials being welded and the skill level of the welder.
How Many Welding Methods Are There For Aluminum?
First, the weld junction and welding wire surface must be thoroughly cleaned of any oxide layer or oil stains before welding any aluminum or aluminum alloy;
Second, using chemical solvents to clean. Chemical cleaning is well suited for cleaning welding wires and workpieces of small size and batch manufacturing due to its high efficiency and steady quality. Both immersing and scrubbing are viable options. Degrease the surface with an organic solvent such acetone, gasoline, kerosene, etc., and alkali wash using a 5% to 10% NaOH solution at 40 °C to 70 °C for 3 to 7 minutes (pure aluminum takes a slightly longer time but does not exceed 20 minutes). Use running water to clean it. The next step is a 1- to 3-minute acid wash in a 30% HNO3 solution at 60 °C. Run under running water to rinse, then let dry naturally or tumble dry on low.
Third, mechanical cleaning is utilized when the workpiece is big, has a lengthy manufacturing cycle, and has been polluted after multi-layer welding or chemical cleaning. To restore the metal's shine, wipe the surface with an organic solvent like acetone or gasoline to remove grease, and then brush it directly with a copper wire brush or stainless steel wire brush with a diameter of 0.15 mm to 0.2 mm. For the most part, grinding wheels and regular abrasive paper are not recommended for grinding because they may leave sand particles on the metal surface, which can then be melted into the weld pool as slag inclusions. The area to be welded may alternatively be prepared by scraping and filing. It has to be reprocessed if it has been sitting about for too long (more than 24 hours) after being cleaned.
Base plate: Liquid aluminum has excellent flow performance and aluminum alloy has poor strength at high temperatures. Collapse of the welded metal is a common welding phenomenon. Backing plates are often used to keep the weld pool and nearby metal from collapsing during welding. Plates made of graphite, stainless steel, carbon steel, copper, copper plate, copper rod, etc. may serve as the foundation. The backing plate has a groove in the form of an arc cut into its surface to facilitate reverse molding of the weld. The ability to weld on both sides without the need of backing plates is also conceivable, but it requires more complex process measures like highly skilled welding operations or precise automated feedback management of arc welding energy.
It is not necessary to preheat thin and tiny aluminum pieces before welding. When the thickness is between 10mm and 15mm, preheating may be done before welding. Preheating temperatures range from 100 to 200 degrees Celsius and may be achieved using an oxyacetylene flame, electric furnace, or torch, depending on the specific aluminum alloy being worked with. Deformation and flaws like pores in the weldment may be minimized using preheating.
After-weld care The passivation coating on the aluminum surface may be damaged and the aluminum components can corrode if there is residual flux and welding slag remaining in the weld and nearby regions after welding. As a result, they require a thorough cleaning. Hot water washing or steam blowing are two examples of easy processes that may be used to clean workpieces with basic forms and criteria. Brushing with a hard bristle brush in hot water, then soaking in a solution of 2% to 3% chromic anhydride or potassium dichromate solution at about 60 °C to 80 °C for 5 to 10 minutes, brushing again, then drying in an oven or blow drying with hot air, or drying naturally is recommended for aluminum parts with high requirements and complex shapes. Post-welding thermal processing Aluminum containers seldom need post-weld heat treatment.