In recent years, with the rapid development of automobile industry, electronic information, household appliances, building materials, and machinery industry, China's mold industry has also achieved rapid growth. The total sales volume of China's mold industry increased from 98 billion yuan in 2009 to 184 billion yuan in 2016, with an annual compound growth rate of 9.58%. Here is everything you should know about the scale of China mold market.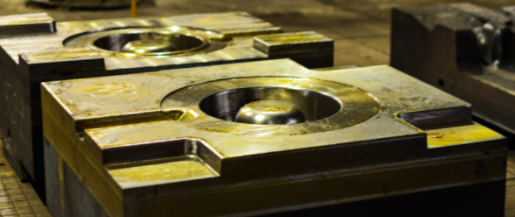 Classification and composition of China mold market
Among the mold sales, plastic mold accounts for the largest proportion, accounting for about 45%; stamping mold accounts for about 37%; Die casting molds account for about 9%: other types of molds account for about 9%.
Import and export of China mold industry
At present, the supply of medium and low-grade molds in China has exceeded the demand, while the self-sufficiency rate of high-tech molds mainly represented by large, precision, complex and long-life molds is still low, only about 60%, and a large part still depends on imports. Since 2009, China has imported about US $2 billion of molds every year, mostly high-grade precision molds, while export molds are mainly medium and low-grade, with low technical content and added value.
Regional distribution of China mold enterprises
After years of development, the overall strength and comprehensive competitiveness of China's mold industry have been significantly enhanced. The service capacity of automobiles, motorcycles, electronics, household appliances, and other industries has been greatly improved. A certain number of backbone enterprises with strength have been formed in the industry, and the product quality and technical level of mold have been greatly improved. At present, China's mold industry is mainly concentrated in the three large agglomeration areas of the Pearl River Delta, the Yangtze River Delta and the Bohai Sea, as well as the two medium agglomeration areas of Chengdu Chongqing and Wuhan Changsha. The mold production capacity in the above five areas accounts for more than 90% of the country. In these large and medium concentration areas, many characteristic mold production bases of cities, districts, counties and towns with higher degree of agglomeration have also been formed. The industrial agglomeration effect of China's mold industry is gradually emerging. In terms of regional distribution, the mold industry in the southeast coastal areas is developing faster than that in the central and western regions, and the mold industry in the south is developing faster than that in the north. At present, Guangdong is the province with the fastest concentration and development of mold production
Development characteristics of China's mold industry
(1) Mold manufacturing enterprises are large in number and small in scale
Since the vast majority of molds are made for specific users, compared with general industrial product enterprises, mold enterprises are large in number, small in scale and mostly small and medium-sized enterprises. According to the statistics of 81 sample mold enterprises by China mold industry association, there were 71 manufacturing enterprises with mold output value (mold + mold base + standard parts) of more than 10 million yuan in 2014, and 25 enterprises with more than 100 million yuan. At present, there are about 30000 mold manufacturing enterprises (factories and points) in China, with nearly 1 million employees. Most mold enterprises are small in scale and the industry concentration is not high.
(2) Business model of "order production"
The mold is designed and processed according to the specifications, product uses, process structure and processing equipment required by downstream parts manufacturers. The change of parts design requirements and shape structure will require the corresponding mold to change. The above characteristics of mold production lead to the general adoption of the business model of "order production" in the mold industry. At the same time, in order to maintain their competitive advantage in the market, downstream parts manufacturers keep some parameters of products strictly confidential, and usually only choose one mold supplier to provide molds for the same part. Therefore, a long-term business cooperation relationship is formed between mold enterprises and downstream parts manufacturers. Once the cooperation relationship is established, it will remain stable for a long time. It is precisely because of the above characteristics of mold production that the business model of "order production" is widely used in the industry.
(3) Long delivery acceptance cycle
The business process of mold mainly includes four stages: business negotiation, mold design, processing and commissioning, delivery confirmation and quality assurance. After the order is signed, the general business process is as follows:
Compared with general industrial products, the mold industry has the characteristics of long delivery and acceptance cycle. Generally, it takes 1-3 months to carry out process analysis and structural design after the acceptance of mold orders. It takes 3-4 months from material procurement to quality inspection and delivery, 3-24 months from delivery to customer acceptance, and generally about 12 months after acceptance. The main factors affecting the delivery and acceptance period of molds include the change of customer design requirements, the adjustment of customer product plans, customer centralized acceptance, the complexity of molds and the comprehensive strength of mold enterprises. The main factors affecting customer acceptance include mold commissioning and operation, mold trial production, mold design parameter adjustment and customer product plan adjustment. In the process of mold design and manufacturing, customers often require the implementation of mold design change based on the adjustment of technology and quality standards
(4) The trend of mold enterprises to extend the industrial chain is obvious
Because mold enterprises can contact different kinds of parts and components in the business process, and have a deep understanding of the market demand, sales channels, product raw materials and cost composition of parts and components, mold enterprises directly produce downstream products with the characteristics of low cost, low investment risk and quick response to the market. Many mold enterprises, especially those with strong technical force, high product level and management level, Using their own strengths, they began to plan or have implemented the extension of the upstream and downstream industrial chain led by molds, that is, mold enterprises no longer produce molds alone, but directly produce downstream parts with mold production as the support and guarantee. From a simple mold production enterprise to a "mold + parts" production enterprise, on the one hand, mold enterprises can enhance their service ability to downstream customers and enhance their market competitiveness by enriching product varieties; On the other hand, we can fully enjoy the benefits of mold "benefit amplifier" and realize economies of scale.